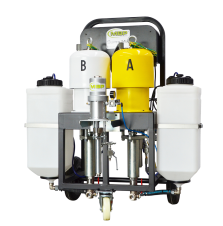 TWO COMPONENTS MIXING UNITS
TWO COMPONENTS MIXING UNITS
Economical and easy to operate
Only the exact amount of material which is required is mixed.
Save money by using less cleaning solvent
These two component pumps ensure a precise mixture of the base and the catalyst in the exact ratio.
Available in low / medium / high pressure and many different mixing ratios are also available
Reduced maintenance costs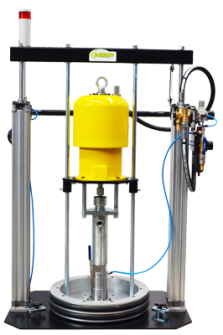 EXTRUSION SUPPLY SYSTEM PS-450
EXTRUSION SUPPLY SYSTEM PS-450
PUMP RATIO: 45:1
AIR PRESSURE RANGE: 1-7 bar
MAX. FLUID OUTLET PRESSURE: 315 bar
STROKE: 261 cc/cycle
AIR INLET : 3/4''
FLUID OUTLET: 3/4''
WEIGHT : 205 kgs.
PACKINGS : PTFE, POLIETHILENE
WIPER SEAL : EPDM
AIRLESS ELECTRIC EQUIPMENT MAGNUS 8000E
AIRLESS ELECTRIC EQUIPMENT MAGNUS 8000E
HIGH PERFORMANCE
Architectural Coatings
Texture Coatings
Block Filler
Elastomerics
Plasters
Epoxy
Solid stains
Sealers
Laquers
Latex
Manufacturer of spray painting and varnishing equipment

International presence
We are one of the most dynamic and flexible manufacturers, exporting our products to more than 60 countries.
More info

MBP has done away with old fashioned corporate structures
We deal with each customer personally, providing a responsive service, developing loyal relationships, catering to each customer's personal needs and always paying attention to detail.
More info

Would you like to become a distributor?
MBP is focused explicitly on the precise needs of our market: spraying, transfer or manipulation of any paint, liquid or fluid.
More info
News
Thanks to a dynamic technical team, flexible industrial production and rigorous quality control, MBP is moving into more and more sectors and adjusting to new markets.